The Omnium
September 27 @ 7:00 pm

-

9:30 pm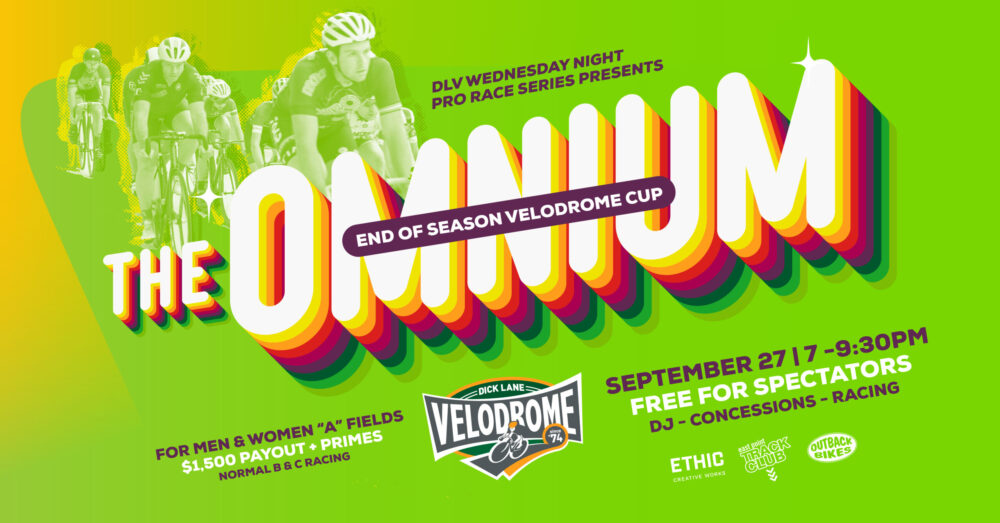 Join us for our final Wednesday night race and second pro race of the season!
Racing starts at 7:00 PM; gates open for riders at 5:00.
In-store for your pleasure is The Omnium – End of Season Velodrome Cup, a real fan and rider favorite.
The Omnium is a series of short to long races worth a set of points that accumulate throughout the night, leading into the final race of the evening, which is the Points Race. The points race is a race within a race, where riders race for points every ten laps that count toward your overall nightly points. The more points you have coming into the Points race, the better your chances for overall victory on the night. However, there are enough points on the line in the final Points Race that riders could easily jump way, way up the standings.
It can be a bit confusing to keep track of it all without the help of a good announcer; luckily, we have one, and he'll keep you up to date, minute by minute, lap by lap, sprint by sprint of everyone's points throughout the night while spinning some tunes to keep the energy high and you dancing in your seat.
Cost: The event is FREE for spectators and riders; your standard Season Pass or $35 for "men and women A's racing". ("A" riders, please get in touch with us if you plan to race The Omnium event, is by invite only and no day of registration.)
Food: We will be grilling out and will have plenty of Burgers, Hot Dogs, and Chips for sale. Or if you like, bring along a picnic basket to help offset our food and beverage choices. (No glass bottles, please)
Pets: Per ordinance, dogs are not allowed at the Velodrome.
Payout A Fields: $1,500 total
$750 for men, $750 for women
1st $325, 2nd $200, 3rd $100, 4th $75, 5th $50
Primes: Crowd primes throughout the night for all fields, including Gambler Primes.
No Rain Date.
Evening Schedule
7:00 Women A 20 lap scratch
7:15 Men A 20 Lap Scratch
7:30 Cat B/C Scratch
7:40 Women A 20 Lap Tempo
7:50 Mens 20 Lap Tempo
8:00 Cat B/C Snowball
8:10 Youth Cycling League
8:30 Cat B/C Elimination
8:45 Women A Elimination
9:00 Men A Elimination
9:00 Cat B/C Unknown
9:10 Women A 40 Lap Points Race
9:30 Men A 60 Lap Point Race
9:50 Awards Presentation
Omnium Points: For the first four events only, each winner shall be awarded 40 points, each second place shall be awarded 38 points, each third place shall be awarded 36 points, etc. Riders ranked 21st and below shall each be awarded 1 point.
Omnium Points Race: Prior to the start of the Points Race, a current ranking with the points totals shall be drawn up, and riders will start the Points Race with these points accrued over the first four events. Riders shall add to, and lose points from, their points totals based on laps gained and lost, and points won in sprints, during the Points Race. The final overall Omnium ranking shall evolve through the Points Race. (5, 3, 2, 1 or 10, 6, 4, 2, 1 for the final sprint – 20 points for gaining a lap)
Rider of the Year Points:
Points gained from overall Omnium points go toward your overall Rider of the Year Points.(e.g.: 40, 38, 36 etc. for all races minus points race, which are worth the points you gain in the race)
Field Sizes:
30 rider maximum for "A" FIELDS
25 RIDER MAXIUM FOR B/C FIELDS
USA Cycling Category:
CATEGORY A – INVITE ONLY FOR MEN/Women Pro 1/2/3
CATEGORY B/C – CAT 3/4 MEN AND WOMEN
Hosted by the East Point Track Club
USAC Insured Event, USA Cycling rules for track mass start racing will be followed.
No race day license purchases
Experienced Cat 3 track racers or better may purchase a one-day at usacycling.org through their member account for $25 (must bring proof of purchase)
Helmets must be worn at all times while riding a bike
Registration closes at 6:30PM