Canceled: The Keirin p/b Outback Bikes
May 9, 2020 @ 3:00 pm

-

10:00 pm

$5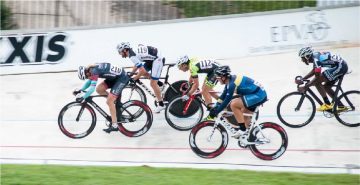 Canceled!
Each year the Keirin kicks off Dick Lane Velodrome's Pro Race Series(PRS). These events will continue the PRS tradition, bringing to the fore-front the best of the best riders that the US has to offer. They'll be pushing the envelope of speed and danger in both hard charging sprint events and grueling endurance races. Catch the fast-paced Keirin, an Olympic event where riders are paced up to maximum speed with a Derny bicycle (a motorized bicycle) until the final lap and a half when they tear up the track to the finish. Also back will be the Velodrome Cup, an event styled after the "International Omnium" event held at the 2012 Olympic Games.
Enjoy a great night out with the family as you get up close and personal with cycling's top athletes!
General Information:
Main Events start at 6pm, Preview Races begin at 3pm. Main program typically finishes around 9pm. Rider introductions for the Main Events happens 6pm. But, get here early to catch all of the day's action.
We'll continue serving up great food, drinks and desserts. The DLV will serve it's famous chicken nachos and other light foods with proceeds going to support DLV programs like the Youth Cycling League.
Single spectator entry fee $5
Family entry $10
We accept Cash and Credit Cards ($1 card fee applies) at the Gate.
Spectator Information:
***City ordinances do not allow pets during events***
Directions to the Velodrome
10 minutes from Downtown Atlanta by Car, 30 minutes by Bicycle and 30 minutes by MARTA and Walking.
Parking is street parking only, please secure your valuables at home before leaving or put them out of sight in your vehicle. Be respectful of neighbors of the velodrome and please do not block their drive-ways and mailboxes.
Racer Information
Racer Flyer: TBA
PLEASE READ THE RACE FLIERS, they contain all of the info you should need to know. If something is not clear, please let us know, [email protected]
ATTENTION ALL CATEGORY B AND CATEGORY C RIDERS:
The EPVA uses unique categories set by ATRA, not USA Cycling. To race at the B or C level you must have raced at the Dick Lane Velodrome or similar velodromes at least 4 times within the last year, if you are unsure, please contact us, [email protected] well in advance. Any riders with questionable equipment or riding ability will be asked not to race at the discretion of the head official. Please do not make the Pro Race weekend your first racing weekend at the Dick Lane Velodrome.