The Keirin
May 24 @ 7:00 pm

-

9:30 pm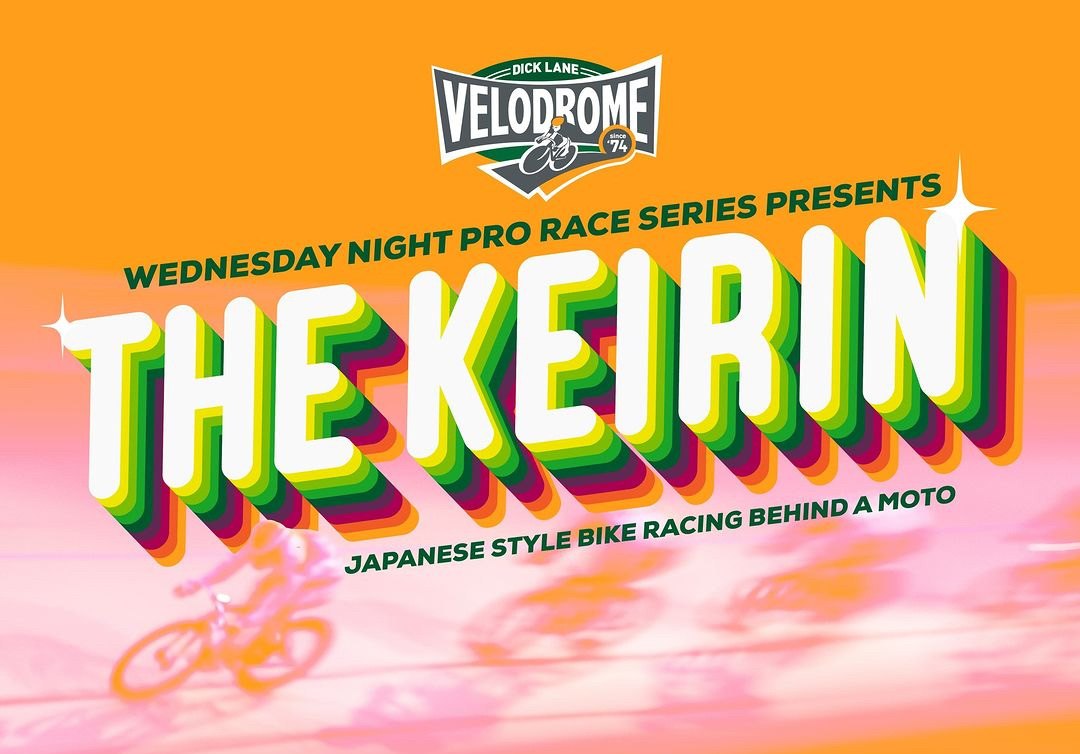 Join us for our first Wednesday night pro race of the season!
Racing starts at 7:00 PM; gates open for riders at 5:00.
In-store for your pleasure is The Keirin, a real fan and rider favorite. The event is free for spectators and riders; your standard Wednesday registration is required. ("A" riders, please contact us if you plan to race The Keirin event, as we have limited space.)
Food: We will be grilling out and will have plenty of Burgers, Hot Dogs and Chips for sale. Or if you like, bring along a picnic basket to help offset our food and beverage choices. (No glass bottles, please)
Pets: Per ordinance dogs are not allowed at the Velodrome.
The Event: What is a "Keirin" (輪 / ケイリン), you ask? Well, it was invented by the Japanese in 1948 for gambling purposes, but it became an official Olympic event in 2000 at the Sydney Games.
Riders are held in a standing start at the start line, up to eight riders per heat, race on bikes with no brakes and a fixed-gear drivetrain – meaning they can't coast. They are paced behind a moto called a "Derny." The Derny steadily gets the riders up to 30+mph over 3.5 laps before pulling off with 1.5 laps remaining (At our velodrome.) The riders then sprint to the finish for placement.
Once behind the Derny, riders can jockey for position after the first lap and decide if they want to take advantage of the draft the Derny provides or try to "tail gun" from the back in an attempt to time their jump to be at maximum speed before the Derny pulls off. Riders can not pass the Derny until it has entirely left the track, so timing is critical. The winner's finishing speed can easily exceed 70 km/h (43 mph).
Keirin races are conducted over several rounds, with one final of the top overall riders. Some eliminated cyclists can try again in the repechages.
Schedule:
7:00 – Mens Keirin Round 1
7:15 – Womens Keirin Round 1
7:30 – Cat B/C Scratch
7:40 – Mens Keirin Round 2
7:50 – Women's Keirin Round 2
8:00 – Cat B/C Snowball
8:10 – Womens Keirin Semi-Finals
8:20 – Men's Keirin Semi-Finals
8:30 – Cat B/C Miss and Out
8:40 – Men's Miss and Out
8:50 – Women's Miss and Out
9:00 – Cat B/C Points Race
9:15 – Womens Keirin Finals
9:25 – Men's Keirin Finals
9:35 – Awards Presentation
Payout:
A Fields: $1,500 total
$750 men, $750 women
1st $325, 2nd $200, 3rd $100, 4th $75, 5th $50
No Rain Date.
Note to Riders:
After further thought, this will stay an ATRA event and will not require a USA Cycling license.