Youth Cycling League – will resume March 2018.
Click here to help fund our Youth Cycling League Program
The Youth Cycling League is FREE for all Tri-Cities kids!
Beginner (ages 8-12): Every Monday and Thursday 5:30 -6:30 pm
Intermediate (ages 12-16): Every Monday and Thursday 6:30 -7:30 pm
Advanced (ages 14-16): Every Thursday 7:15-8:30 pm
  
Our youth program began in 2003 to get the Tri-Cities-area kids interested in riding and racing bicycles. Since then it has grown into three separate classes to accommodate a wide range of ages and experience levels. The program runs from early March through the end of October. Be sure to check the calendar and the weather. Practice will not be held on holidays or if the track is wet.
Frequently Asked Questions
How do I sign up?
On your first day, regardless of age or experience level, arrive early (between 5:00 and 5:15) with A SIGNED WAIVER or a parent/guardian who can sign a waiver.
How much does it cost?
Youth Cycling League is free for all Tri-Cities kids. For everyone else, we suggest a donation of between $25 and $100 each year to support expenses. No one will be turned away because of an inability to make a donation.
Can I start mid-year?
Yes.
How much experience do I need?
You must already know how to ride a bicycle.
What should I bring?
We provide bikes, helmets, and water, but you can also bring your own water bottle and helmet from home. Be sure to wear athletic clothes and sneakers with short laces. We also recommend you eat something before practice.
When does the program start and end?
We begin in early March and run through the end of October.
How do I advance through the program?
It comes down to coach's digression. Generally, the Beginner Class is for ages 8-12 and the Intermediate class is for ages 12-16. If it is your first day, show up early to the Beginner Class. If you are anxious to move into the next class, ask your DLV coach what you can do outside of class to be a better rider and teammate .
Thanks to our generous sponsors and individual donations, we provide bikes, helmets, and USA Cycling-certified coaches to introduce your kids ages 8-16 to the fun, practical, and exciting discipline of cycling. Riders can expect skills drills, games, and practice races that will increase in difficulty as they progress through the program. They will also have the opportunity to compete under the lights during the Pro Race Series events. Don't miss the fun. Come down for the next class!
Our Youth Cycling League program is supported by all sponsors of the velodrome, as well as the following direct contributors :
Atlanta Falcons Youth Foundation – www.afyf.org
Metro Atlanta Cycling Club – www.maccattack.com
Lake Cycling Shoes – www.lakecycling.com
Fuji Bicycles – www.fujibikes.com
Contact:
Head Youth Cycling Coach, Jackie Holt: [email protected]
Velodrome President and Director, Pete Antonvich: [email protected]
New for 2017: Advanced Class
Be sure to congratulate our Advanced Class riders, Max Oestreich (Powder Springs, GA) and Johnny Rhodes Delbridge (East Point, GA), on their gold and silver medals at the 2017 Junior 11-12 National Track Championships!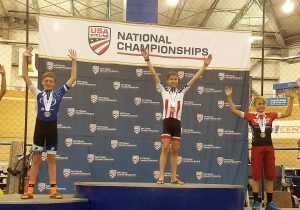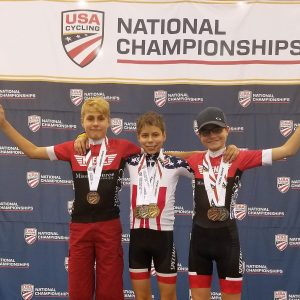 The Advanced Class was created to bridge the gap between Youth Cycling League and adult racing. All riders in the Advanced Class are invited to ride in Tuesday's Pursuit and Sprint Nights (not mass start races). All riders 14+ can take the Adult Certification Class to begin racing in the mass start races, also on Tuesday nights. No riders under 14 are allowed to participate in mass start racing with the adults.
Requirements:
47-second 500 meter TT time
13+ years old (exceptions for athletes bound for national championships)
There is no Advanced Class on Mondays because riders should be resting for adult racing on Tuesday. We ask all Advanced Class riders not attend the Intermediate Class unless requested by coaches to be a mentor.