Wednesday Racing – August Week #2
August 11, 2021 @ 7:00 pm

-

9:00 pm

$10.00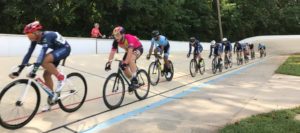 ****DLV cat A, B, C and now Cat D (beginners) are welcome. For Cat D's who attended the July 31 certification class, bikes are available if you need one. ***
The fee for racing on Wednesday nights for the 2021 season is now $15 processed through the DLV website. For the month of August, racing will remain discounted to $10!
Riders 18 and under will race for free. When you go to purchase a ticket to race, you will see a coupon code listed. Use this code during the checkout process to receive a free ticket to race.
Online pre-registration is required and will be opened up after midnight (00:00:00) the day of racing and ends at 6:30 PM. When online registration opens, there will be a button to buy tickets activated on the event page.
All riders must complete an ATRA waiver for 2021 and bring it to your first event of 2021. Click here for the waiver –>ATRA Release. Please print & sign and bring it with you – if you can please scan/take a photo and email with your name on the subject line to: [email protected]
Upon arrival riders must check in at concessions. When you register, you will be emailed a QR code that gets scanned at check in. Please have the QR code ready when you check in.
After check in only riders may enter the infield. Guests must remain outside the boards.
Here is the program for the evening:
Rider check-in starts at 6:00 PM and ends at 6:45 PM
No traditional DLV warmup
Mandatory riders meeting 6:50 PM
Racing starts 7:00 PM
Racing ends approximately at 9:00 PM
We will split riders into 3 groups with a goal of having groups that contain riders of similar fitness and skill. For example one group may have both B category and A category riders in the group. This will give folks the opportunity to race with fields that might stay together and make the racing more competitive. Fields will generally be split into 3 groups if there are more than 24 riders for the evening. If particpation is lower, then there will be 2 groups.
Aug Race's to be determined
Race 1: Scratch

* Group 3 – 10 laps
* Group 2 – 10 laps
* Group 1 – 10 laps

Race 2: Snowball

*  Group 3 – 10 laps
*  Group 2 – 15 laps
*  Group 1 – 15 laps

Race 3: Miss-N-Out

*  Group 3
*  Group 2
*  Group 1

Race 4: Feature races (by invite of the night's  Race Director)

*  "B" Main feature 30 lap Points Race (sprints every 10)
*  "A" Main feature 30 or 40 lap Points Race (sprints every 10)
Event Notes:
– Refunds will not be given for unused registrations
– If the event is canceled by DLV staff, refunds will be provided
– Results will not be tabulated for rider of the year points
General Covid-19 Guidelines
Please stay at home if you are experiencing any symptoms of illness, have an elevated temperature, or have been in close contact with a confirmed case of COVID-19.
At this event and all others, please limit the number of people (guests/parents) you bring with you as much as possible. We understand it may not be possible for you to come alone.
Upon arrival, please follow all directions provided and continue to practice social distancing.
Entrants are encouraged to bring their own pen to complete the 2021 ATRA waivers if you have not completed your ATRA waiver at home.
Riders find a spot in the infield as usual and stay there as much as you can. Please leave a safe distance to your neighbors of at least 6 feet. If you leave your area, social distancing must be adhered to.
Guests find a spot on the outside of the boards and please leave a safe distance to your neighbors of at least 6 feet.
Maintain a minimum of 6 feet between participants and staff members at all times. Avoid physical contact with others when possible.
All Park riders/visitors should wash their hands regularly with soap and water for a minimum of 20 seconds.
Avoid touching your eyes, nose, and mouth.
Masks are mandatory any time you can not maintain 6 feet of distance from another person.
Masks are encouraged but not required while riding
All inquiries should be emailed to [email protected]
Related Events