Swap Till You Drop!
October 25th 2014, 2pm till 6pm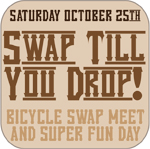 Dick Lane Velodrome's
Swap Till You Drop
Bicycle Swap Meet and Super Fun Day!
We're bringing swapping back to the Dick Lane Velodrome!! It's been a number of years since we've swapped it up at the velodrome, but coming up soon we'll be bringing it back for Swap Till You Drop!! Swapping will be the main theme of the day, but we'll also be having some super fun events to help keep folks entertained. Here's the details:
Swap Meet
Selling is open to any individual, shop, rep, team or any other person or group who has cycling stuff they want to be able to find new homes for. Buying of course is open to anyone with cash in their pocket.
Individual Sellers: $5, we'll have drive-in spots(drive your car in, sell from your trunk), and haul in spots available
Shops and Teams: $10, will also have drive-in and haul in spots available
Tables and Chairs: We have a limited number of tables and chairs available for rent if you need it, they will be $5 each piece for the day, and must be reserved in advance.
Reservations must be made, please use the form below to submit your reservation.
Super Fun Day
The days activities will also include some awesomely fun events, including grass track racing, bike jousting and gold sprints. We will be running a "Swap Meet Triathlon" across those events, with prizes for the highest accumulated points total. $5 entry fee gets you into as many events as you like, as many times as you like! Here is a sample of how good jousting looks: